SaaS Web Analytics - Part 2
Following on from Part 1 of my summary of popular web analytics services.....
Chartbeat
A big player in the world of online publishing analytics, Chartbeat boasts customers such as 'The New York Times', 'Forbes' and the 'BBC' to name a few. Chartbeat grew as an alternative to Google Analytics, focussing on user engagement metrics instead of just page views and click throughs. Demonstrating and measuring user engagement with content is extremely useful for publishers to justify editorial decisions and quantify success. How long a user is on a particular page can be used to infer if they are actually reading and digesting the material, are they scrolling to the end of the article, browsing an image gallery, commenting etc.
Chartbeat can provide all of this in real time. A really cool visualisation tool (although I'm struggling to find a decent use case for it) called 'Replay' allows you to rewind back through the data and 'replay' any specific point in time to re-watch traffic spikes and user interactions. Their dashboard is also fairly slick: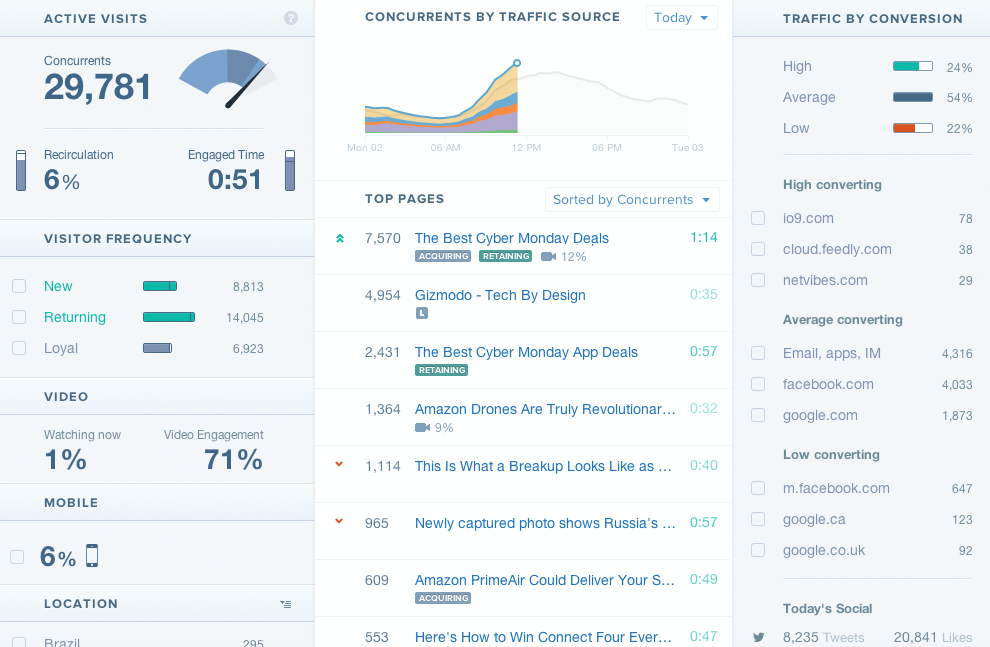 Unlike Gosquared or Mixpanel, Chartbeat's pricing model is based on the number of concurrent connections to your site at any one time instead of the total number of events tracked. There is a free trial available but you have to contact the company to set one up.
Another competitor worth checking out in the media analytics space is Parsely.
Mixpanel
Much like Gosqaured, Mixpanel offers real time tracking, however their customer tracking focuses more on life cycles rather than profiling. Big names using them include Spotify, Twitch and Uber, interestingly also Salesforce, which I would have assumed have their own tracking solution implemented?
Where Mixpanel tries to differentiate itself from Gosqaured is via offering tools to allow you to create your own insights and generate custom reports. Features such as Funnel builder and its simple to use SQL query builder attempt to enable easy manipulation of the data you've tracked.
To get fully up and running on Mixpanel takes a little more time and effort than Gosqaured and personally I don't think the dashboard is as nice to look at or use as Gosquared's. However if you want to generate more custom reports, Mixpanel may be what you're looking for.
A very generous free tier is available via the Mixpanel Partner program if you agree to show the Mixpanel logo on the pages you choose to track. It offers up to 200,000 data points and 25,000 people profiles a month for free, after this subscription costs scale with usage.
Crazy Egg
Specialising in user interaction, Crazy Egg takes a specified URL and records every mouse-click and scroll event. It then screengrabs the page and plots the data either as a heat map of activity, a scroll map of how far down the average user scrolled or as a 'confetti map' displaying every unique click.
This is particularly useful for web designers trying to decided where to place elements within a page. Where did the user lose interest? Are we drawing attention to the right parts of the page? etc. Its essentially all very glanceable visual feedback for A/B testing.
Its very easy to set up by adding a snippet of tracking code into the footer of your webpage, then simply watch the clicks come in on your Crazy Egg account.
They offer a free 30 day trial but there is no ongoing free tier. After that pricing is a scaling subscription based on the number of pages you track and the number of monthly visitors tracked.
Adobe Marketing Cloud
More commonly known for their Creative Suite of products, Adobe also specialises in providing extensive tooling for web tracking and marketing. Like Photoshop, Adobe Marketing Cloud is very powerful, has a crazy big feature set, a steep learning curve and huge price tag! It is designed and sold as an enterprise level solution and expect to pay at least $50k just to get set up and running.
They offer a suite of products that are all built on-top the core Adobe Analytics.
Although dashboards and information can be viewed via the cloud, a lot of the visualisation is done in a desktop application called 'Data Workbench' which is very polished but probably requires dedicated training to set up and use.
---
Evolution of Web Analytics
Historically the motivation for web analytics was collating the number of page views. As the market evolved and e-commerce became much more common place, profiling and customer insights became invaluable. Individual users and events tracking are now must have features. However Trakio is a company that is attempting to evolve the analytics market once more so that it is a more natural fit for the huge variety of SaaS based companies now in existence.
If you are a SaaS company you most likely offer a subscription based service. Maybe you sell a particular level of usage, maybe you sell a specific number of user accounts, maybe you sell 10 licenses which can then be used by any number of different users within a company. How do you track the aggregate of this group of licenses to indicate if the whole account is healthy or likely to churn?
Does 1 active 'power user' make up for the other 9 idle users, how many licences within the account are active at any 1 time, is using the dashboard for company wide reporting skewing engagement stats? Attaching attributes to track and profile group metrics is Trakio's focus and an interesting new area for web analytics.
Segment - try all of the above!
If you can't decided which tool/tools will be best for you, check out Segement. Its an integration service that allows you to aggregate and control data from multiple sources in one place. Instead of cluttering your Html with multiple tracking tags from different services, you just add a single 'Segment tag' and control individual tracking services from Segment's dashboard.
This is not a new idea and you may have come across the term TMS (Tag Managment System) within the industry before. Segment is essentially a TMS service, it just happens to be one of the best and prettiest out there!
Geckoboard - make everything pretty!
Its also worth mentioning that pretty much all of the services covered in this post integrate and play nicely with Geckoboard. A really useful tool enabling you to build beautiful dashboards summarising all of your key data streams from virtually any source.
Finally
I've always wondered how meaningful the list of customers on each of these company's website actually is. The extremely low barrier to entry for implementing SaaS services means its incredibly simple to just try a product quickly and then disregard it if its a poor fit. Therefore listing customers on you website doesn't necessarily correlate to a ringing endorsement for the product. Are they currently using/paying for the product and if so how long have they been using it for? Any company giving these products serious consideration is surely likely to at least trial a few of them right before settling on a favourite, right?
Also there are sooooo many web analytics solutions now that I haven't had time to cover them all in depth but be sure to also check out:
KISSmetrics - same founders as Crazy Egg, generates user profiles that are searchable via email, very good at historical analysis but no real time tracking features!
Clicky - long standing no-nonsense web analytics although it lacks a lot of the polish and finish of other services.
Salesforce - monolith of a sales platform offering much more than just analytics but could potentially be overwhelming and overpriced for the functionality you actually extract from it.
---
I think that's enough of a knowledge dump for now, thanks for reading!